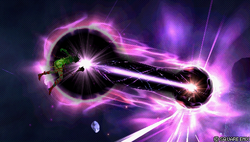 0-form Particle Beam (零式 波動砲, Reishiki Hadōhō?), also known as [0-form] Particle Beam and Zero-form Particle Beam, is a recurring ability in the series. It is an ability used by Cloud of Darkness.
Appearances
Zero-form Particle Beam is an attack used by the Cloud of Darkness each time she moves to a different edge of the area. The attack is fired in a straight line, dealing heavy damage and inflicting Vulnerability Up on any players caught in the beam.
0-form Particle Beam is an aerial magical HP Attack for Cloud of Darkness, obtained at level 38. It requires 40 CP to equip (20 when mastered), 180 AP to master, has Melee High priority, and can induce Wall Rush. It fires an enormous beam that has short-range, and will turn to track the opponent automatically.
0-form Particle Beam is a HP Attack for Cloud of Darkness, now obtained at level 36, requiring 30 CP to equip (15 when mastered), and 160 AP to master. It is otherwise the same as in the previous game.
0-Form Particle Beam is a Burst Soul Break usable by the Cloud of Darkness. It deals six hits of Dark and non-elemental damage to all enemies, raises the party's Magic and Mind by 30%, and casts Doom and Haste on the Cloud of Darkness.
0-Form Particle Beam is a Limit Burst available when the Cloud of Darkness unit at 4 Stars Rarity. It damages all enemies with a 2.3x mutliplier (3x if at Max level).
Gallery
Etymology
In the mathematical fields of differential geometry and tensor calculus, differential forms are an approach to multi-variable calculus that is independent of coordinates. Differential forms provide a unified approach to defining integrands over curves, surfaces, volumes, and higher-dimensional manifolds. A differential 0-form ("zero-form") is defined to be a smooth function f on U.
[view · edit · purge]A particle beam is a stream of charged or neutral particles, in many cases moving at near the speed of light.
Community content is available under
CC-BY-SA
unless otherwise noted.